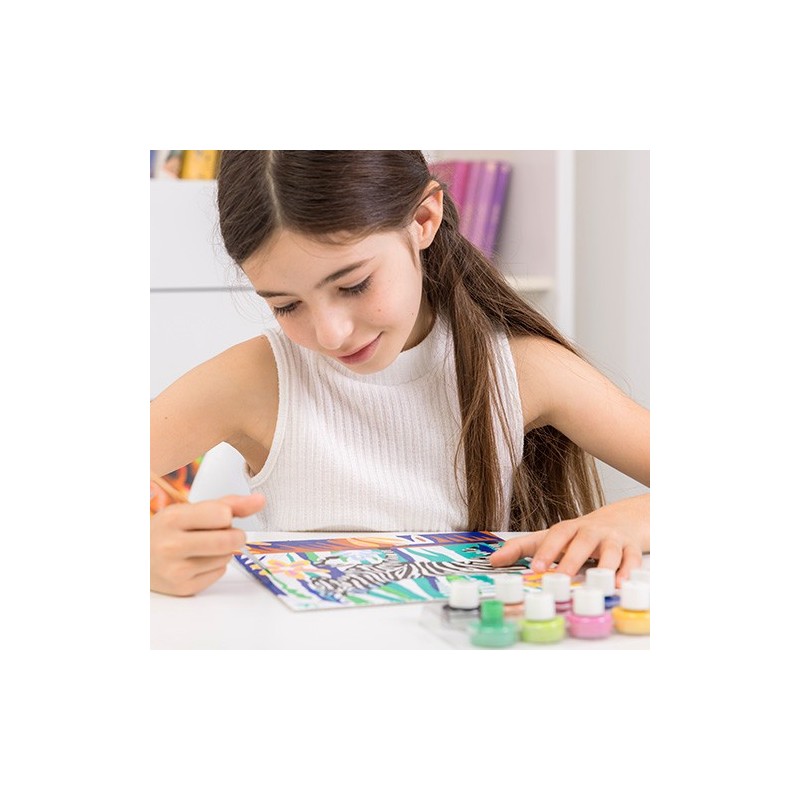  
These painting by numbers illustrations are perfectly adapted to young artists. Thanks to the vibrant and opaque acrylic paints, they will be able to create beautiful bird paintings!
6 years +
Fabriqué en France
Produit végan
Produit expédié sous 24h
SAV disponible au 01 40 60 72 65
With this creative kit, have fun making two painting by numbers illustrating beautiful birds! With each added vibrant colour, they will come to life.
With painting by numbers, artists of all levels will be able to create true works of art! All they need to do is follow the numbers printed in the canvases that indicated the colour that each zone needs to be coloured in. The acrylic paints provided in this kit are opaque to perfectly cover the numbers and the lines printed on the canvas. Just follow the guide to obtain a beautiful, guaranteed result!
The numbers are just a guide to help you. If you wish, you can reinterpret some colours. Just have fun, relax, and enjoy revealing your artistry!
A relaxing therapy
This creative activity will help you reveal your artistic side, all the while enjoying a relaxing moment. Just follow the numbers and let your mind wander will you are guided through these beautiful canvases.
An eco-friendly product

This range is manufactured in France and eco-designed to allow all ages to have fun all the while respecting the environment and future generations. Here are the eco-friendly measures that were carried out to develop this range:
Paint jars made of 70% recycled PET


A palette made of 70% or recycled material

A cardboard box made of 80% recycled material FSC certified


FSC certified boards

88 % of the value of this product is made in France

98 % of the value of this product is made in Europe  
2 boards with printed numbers (22 x 22cm)
12 acrylic paints
1 paint brush
1 palette
Box made of more than 80% recycled cardboard
Palette made of 70% recycled plastic
Paint jars made of 70% recycled plastic