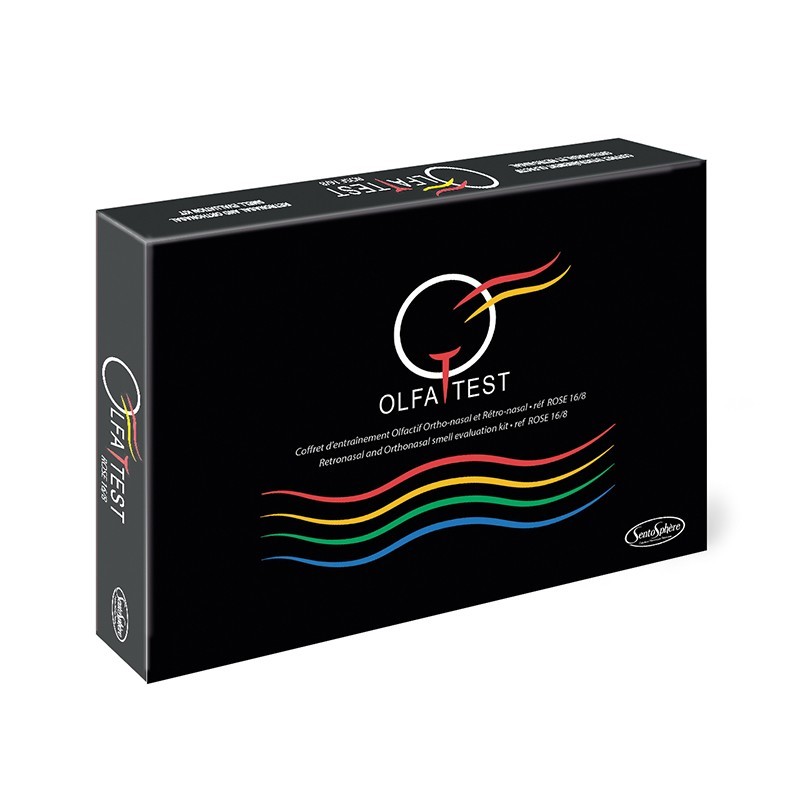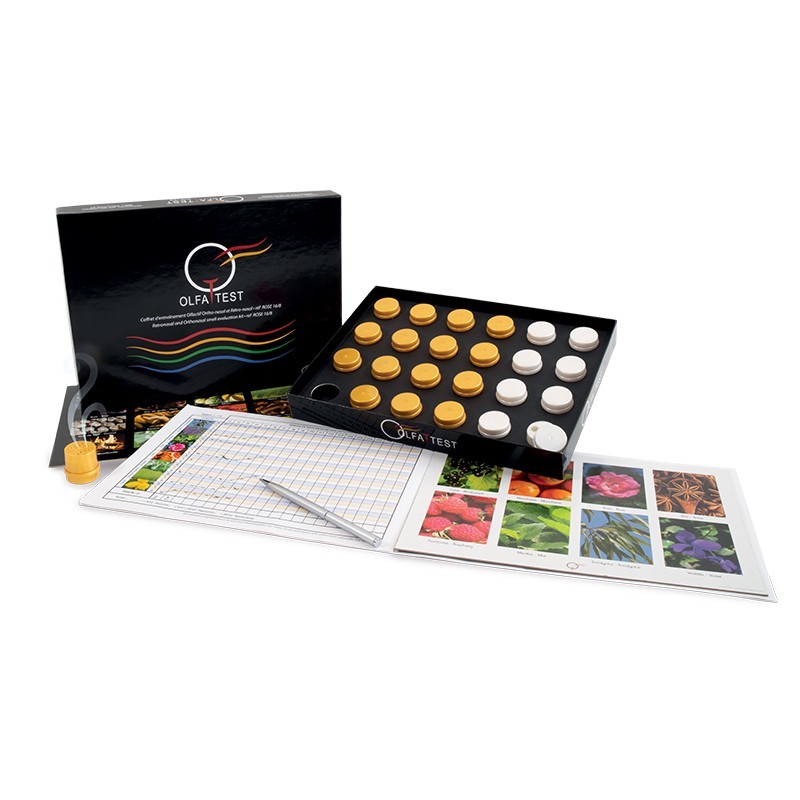  
Olfatest is a simple and efficient tool for olfactory rehabilitation as it offers a representative selection of daily smells using essential oils and molecules with specific characteristics.
Post-traumatic anosmia have a spontaneous recovery rate of 10 % (of total cases) which can be brought up to 33 % with regular training. In the case of post-viral olfactory losses, i.e. Covid 19, spontaneous recoveries represent 33 % of cases. Recent scientific analysis has shown that daily  olfactory training (over a period of 3 to 8 months) vastly increases recovery rates.
Thanks to 16 smell capsules and 8 flavour capsules, this kit will help people suffering from direct and retro-nasal olfactory loss easily re-educate their olfactory senses while allowing them to track their progress on a daily basis.
16 smell capsules
8 taste capsules
1 board with visual representations of smells and flavours
1 sensory perception tracking board
Box made of more than 80% recycled cardboard
Pas assez de précisions entre produit à sentir et produit sous forme de pastilles à avaler. On a du mal à voir ce que l'on achète. Pas assez d'odeurs du quotidien.
published the 07/08/2023 following an order made on 07/08/2023
by Helene N.
EXCELKENT PRODUIT MERCI!
published the 30/05/2023 following an order made on 30/05/2023
by Tatjana K.
Très ludique et efficace après une perte de goût et d odorat
published the 28/04/2023 following an order made on 28/04/2023
by Cécile H.
produit testé immédiatement avec une amie qui souffre de covid long. Certaines odeurs sont difficilement perceptibles même pour moi, et je m'interroge sur la possibilité de les accentuer un peu. Mais c'est un beau produit dans l'ensemble.
published the 23/03/2023 following an order made on 23/03/2023
by Nathalie G.
Très bon jeu, le coffret est très beau, je l'ai acheté pour me rééduquer d'une perte d'odorat et cela fonctionne très bien.
published the 01/02/2023 following an order made on 01/02/2023
by Charlotte L.