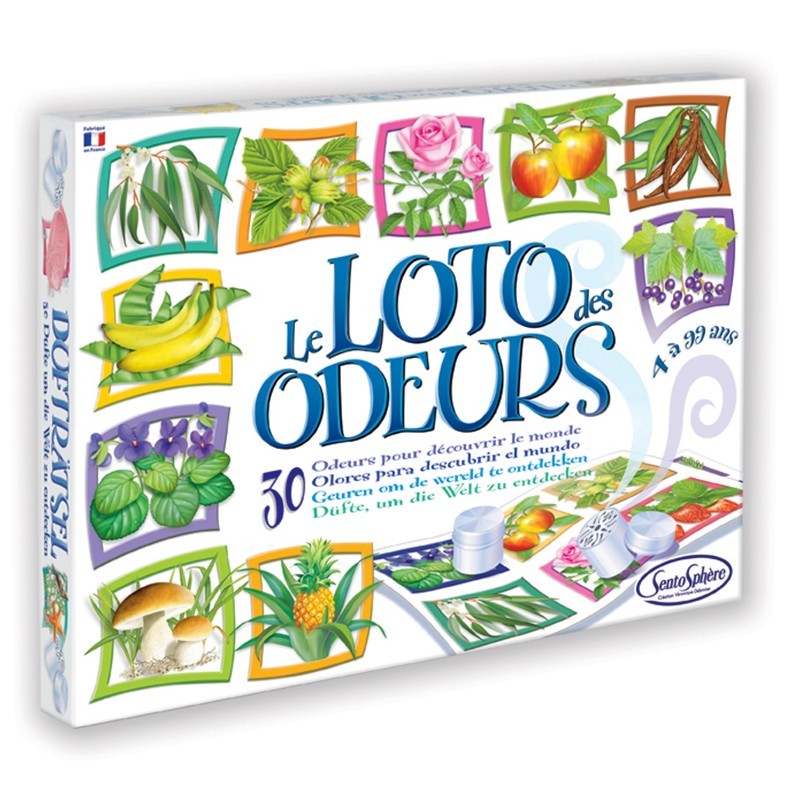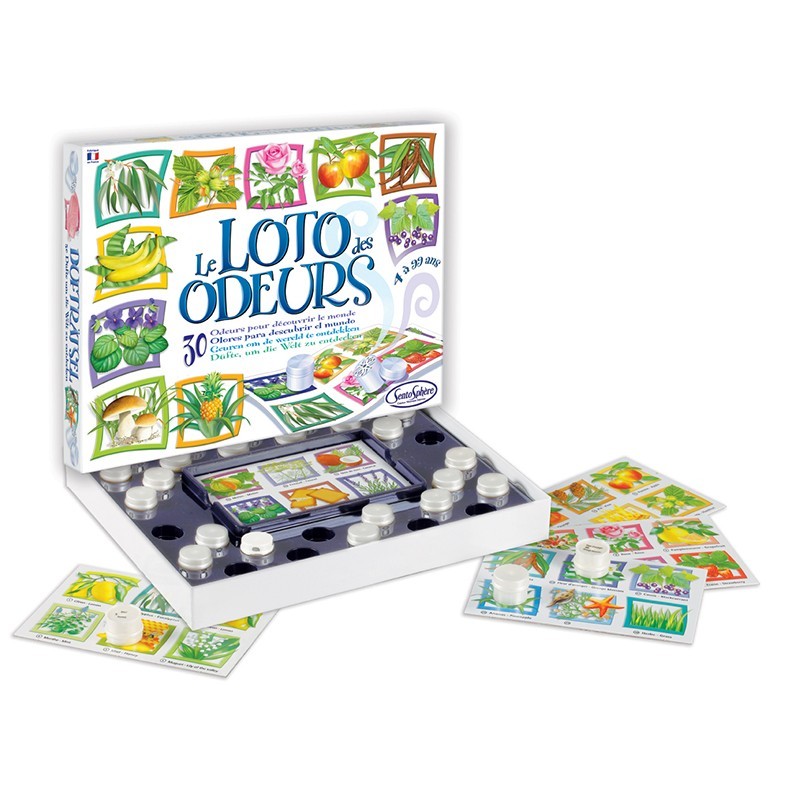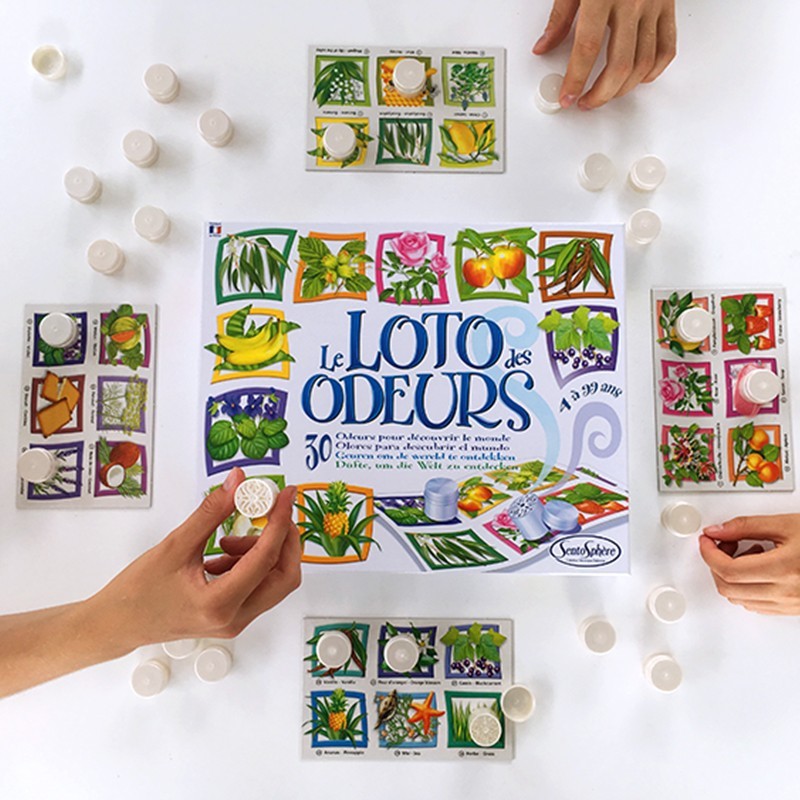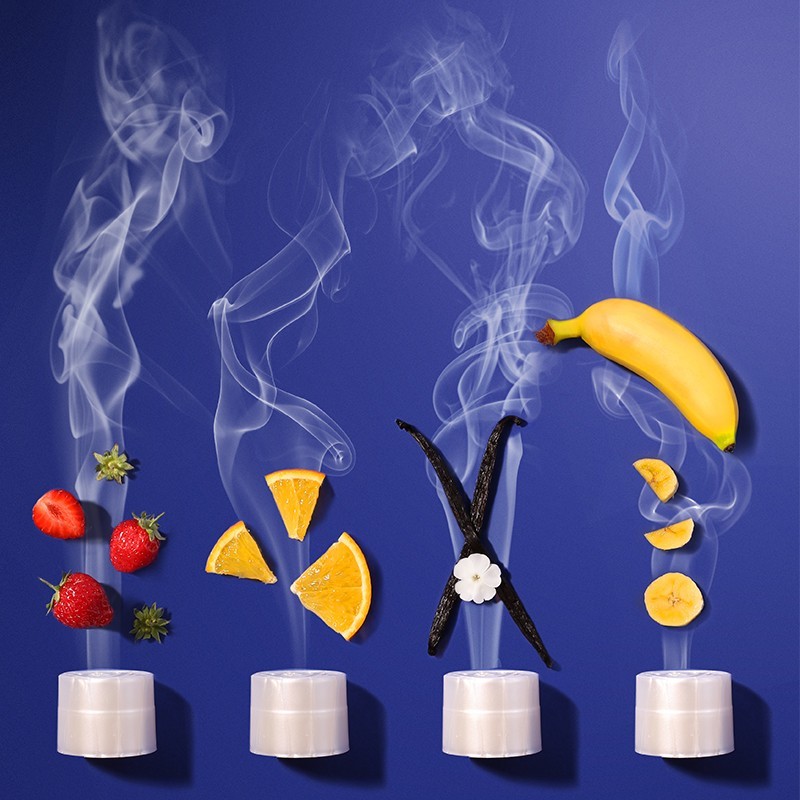  
Exotic fruits, flowers and daily delicious smells are presented in this olfactory game. The 30 smell capsules of the Loto des Odeurs (Follow your Nose) will help you discover our world through a new sensory dimension!
This game will be full of discoveries that all ages can magically share to enrich their sensory awakening. The game rules are easy and challenging: all you need to do is recognise a smell and associate it with the illustration that represents it. The first player that completes its board, without any mistakes, wins the game!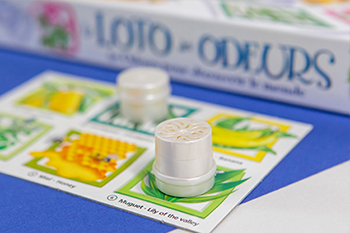 Smells presented in the game
100 % natural smells: Lemon, Eucalyptus, Mint, Orange, Pin tree, Fennel, Lavender, Vanilla.
Smells recreated with natural ingredients and/or molecules: Orange Blossom, Chimney Fire, Ocean, Blackcurrant, Pineapple, Strawberry, Grass, Banana, Honey, Lily of the Valley, Honeysuckle, Rose, Grapefruit, Apricot, Soap, Mushrooms, Hazelnut, Melon, Coconut, Violet, Cookie, Apple.
Made in France smells
Our smells are all formulated and created by Veronique Debroise, our founder and CEO that used to be a perfume maker. The smells are then manufactured in our factory located in Saint-Arnoult-en-Yvelines, near Paris in France.
This game is actually 100% manufactured in France.
Our Tips & Tricks
Our smell capsules are guaranteed for a minimum of 2 years, but can last for much longer if you close them after each use with the right cap. Keep this game far from a heat source.
Somebody that is not used to using their nose may find that olfactory recognition can be hard. However, we guarantee you that with a little training, it will become very easy!
Our first tip is to try and categorise the smell: is it sugary? salty? fruity? flowery? Woody? etc.
Our second tip is to try and remember what that smell makes you think of. Actually, our sense of smell is the one that is the most linked to our memory! A simple smell can make you think of a season (strawberries in summer), a person (grandma's lemon smell), a favourite dish (curry), a yogurt flavour, a cream fragrance, a place, etc. Making this link will automatically help to put a name on the smell you are trying to recognise.
Also, smells are like colours. For example, there are as many shades of green as there are apple smells! A green apple does not exactly smell like a red apple, that smells differently from apple sauce or apple pie! The smells presented in our games are therefore one of the many available versions of smells that you can find around you.
Recognising smells will become a true Memory game, using all your souvenirs as a reference palette.

30 smell capsules
5 illustrated gameboards
Box, boards made of more than 80% recycled cardboard
Tray made of 70% recycled plastic
Un grand classique qui permet aux petits comme aux plus grands de passer un chouette moment en famille. Les odeurs dans la majorité sont assez bien reproduites! c'est un excellent exercice pour faire travailler l'odorat aux enfants.
published the 12/10/2023 following an order made on 12/10/2023
by Sophie B.
Loto très éducatif.
published the 16/02/2023 following an order made on 16/02/2023
by Marie S.
Excellent jeux educatif
published the 30/01/2023 following an order made on 30/01/2023
by Mickaël P.
Nous avons adoré le Loto des Sons mais pour celui-ci, je suis plus mitigée. Le concept est génial, même pour des adultes. On prend plaisir à jouer tous ensemble et c'est une vraie expérience olfactive, ce qui est rare. En revanche, le jeu m'a rendue malade ! J'ai eu la nausée et un beau mal de tête avec toutes ces odeurs. Je ne souhaite plus trop y jouer. Ma sensibilité mise à part, certaines odeurs sont parfaitement reproduites et font vraiment travailler la mémoire sensorielle, d'autres sont difficiles à reconnaître et me laissent dubitative et certaines sont absolument infectes. Cela a le mérite de faire rire tout le monde quand on tombe sur une odeur désagréable et qu'on fait la moue. Je pense que c'est un jeu original et intéressant, mais attention aux personnes sensibles.
published the 13/09/2022 following an order made on 13/09/2022
by Lisa K.
j'adore, les odeurs sont prenantes mais on sent bien
published the 25/06/2022 following an order made on 25/06/2022
by Elodie C.