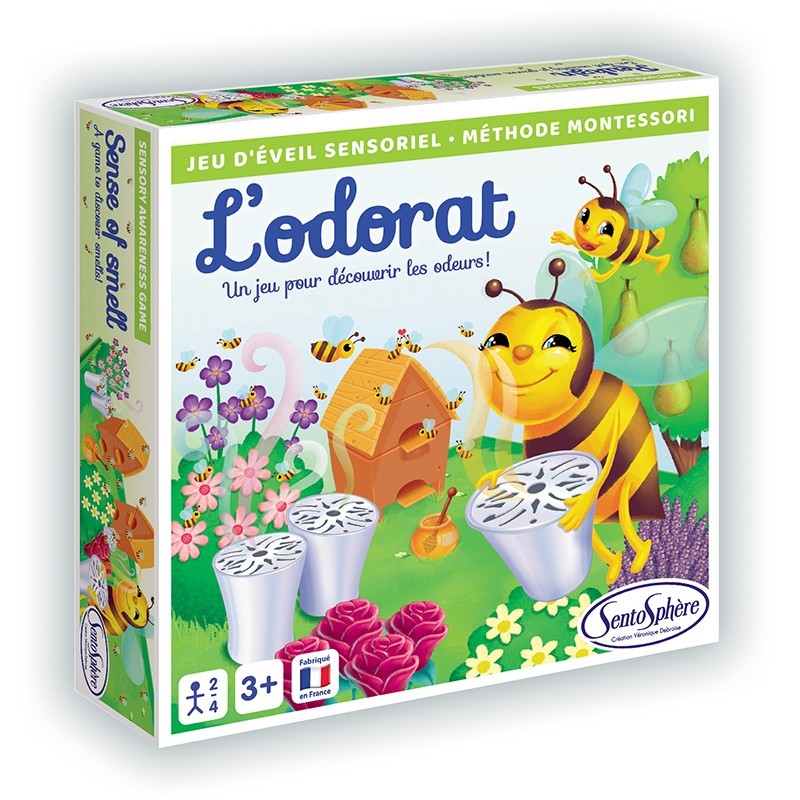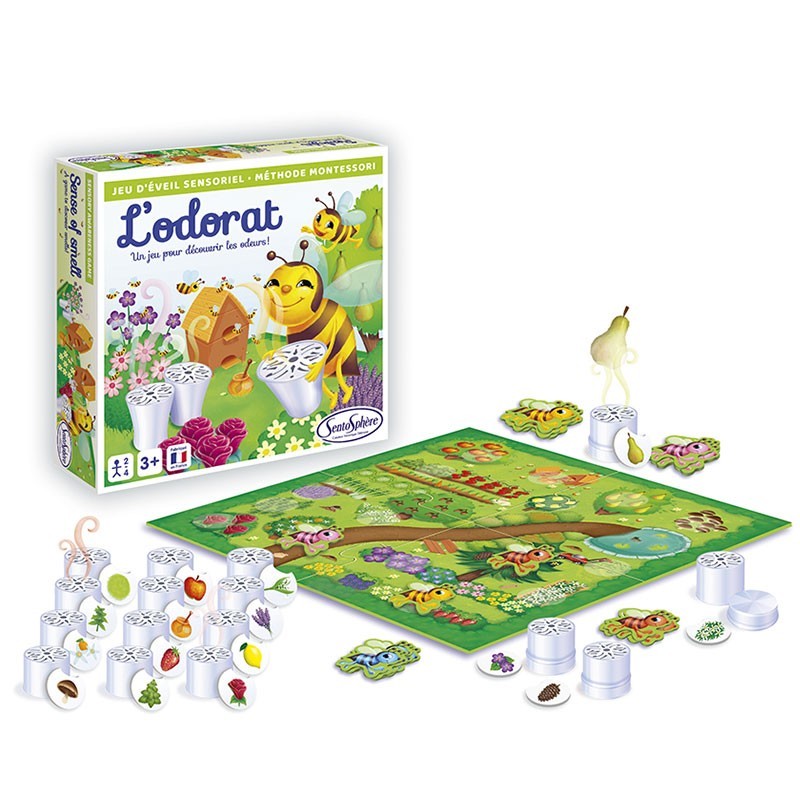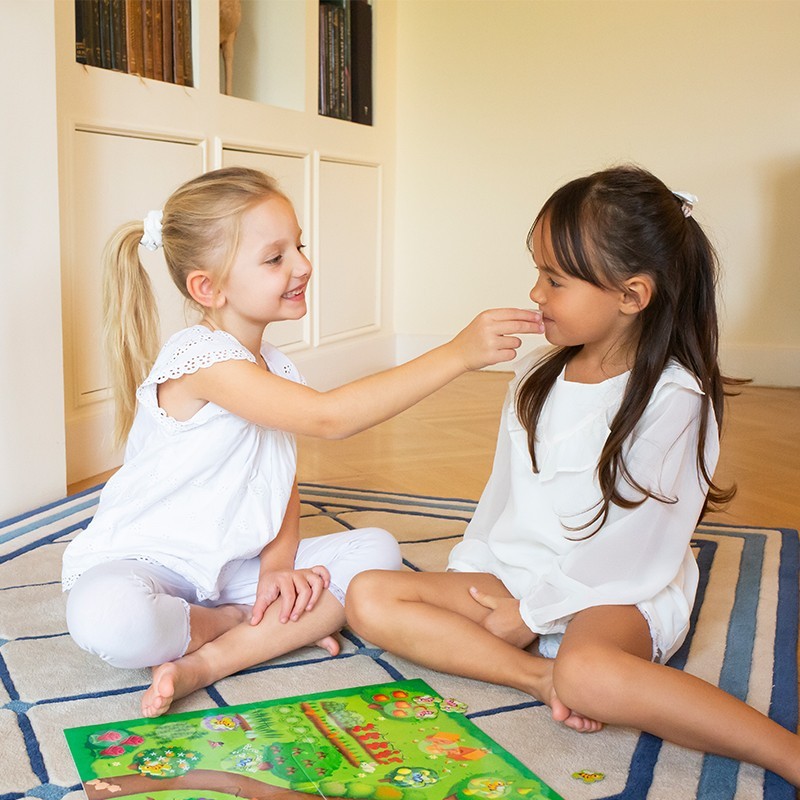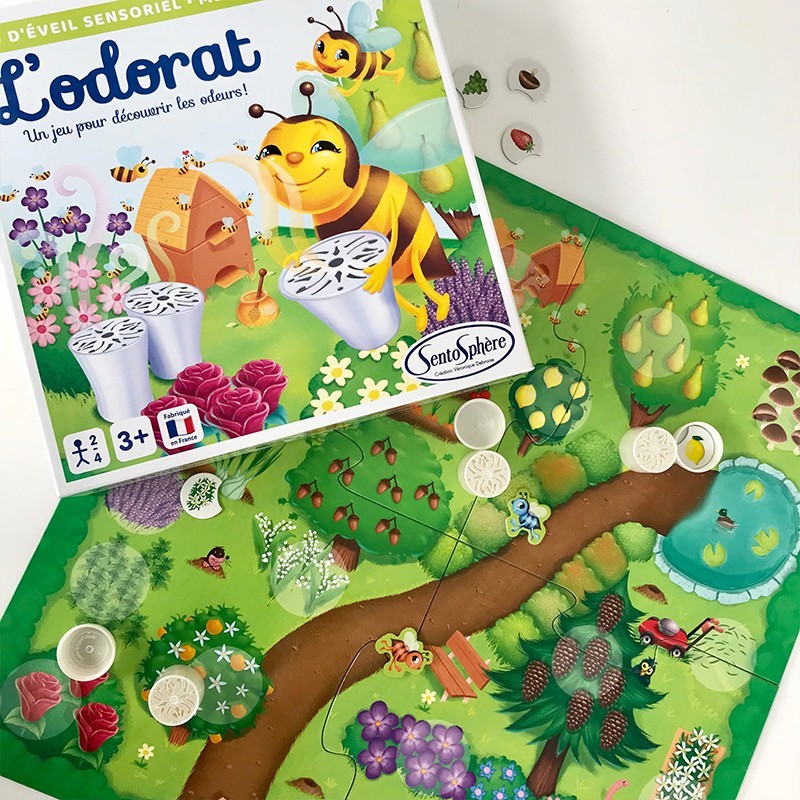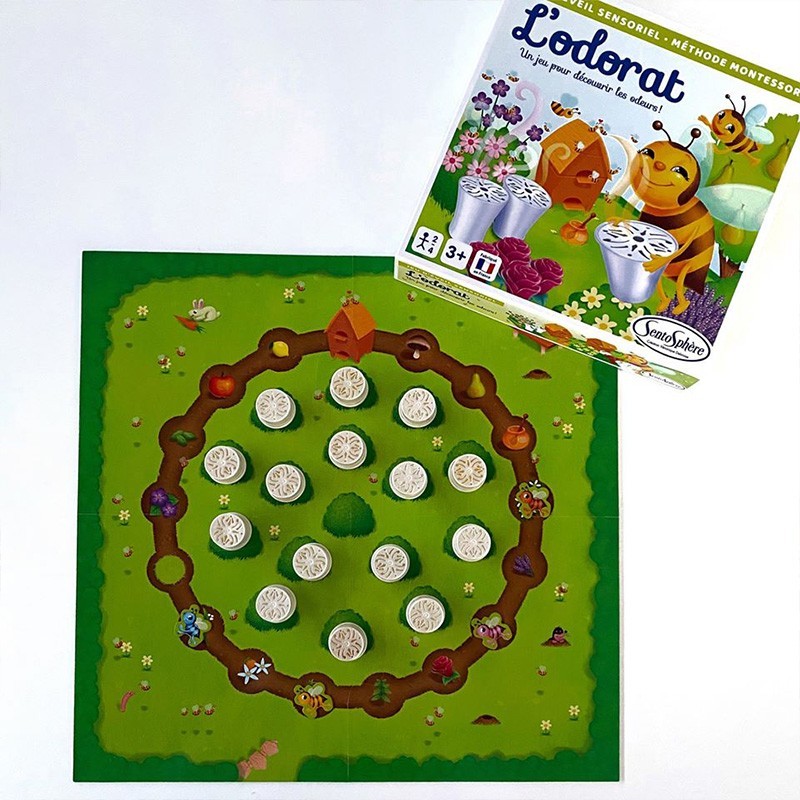  
This olfactory game,  based on the Montessori method, will help children awaken their sense of smell by discovering different fruit, vegetable and plant smells! 
3 years +
Fabriqué en France
Produit végan
Produit expédié sous 24h
SAV disponible au 01 40 60 72 65
In order to produce honey, bees gather pollen from different flowers and plants. In this game, players will need to help them recognize the nectars and pollens that will make their production delicious and abundant.
During each round, all players must smell the same capsule and be the first ones to place their bee on the illustrated recognised element on the board. Only the first bee will get to stay on the board!
Starting 3 years old, children can easily awaken their sense of smell thanks to this unique method that associates a smell to an illustration.
This game offers 2 sets of rules, including one that does not use the smells.
Educative Method
Our sensory game range, based on the Montessori method, explores an educative method that believes children should discover their environment through their senses and different experiments from which they can learn on their own.
Made in France smells
Our smells are all formulated and created by Veronique Debroise, our founder and CEO that used to be a perfume maker. The smells are then manufactured in our factory located in Saint-Arnoult-en-Yvelines, near Paris in France.
This game is actually 100% manufactured in France.
Our Tips & Tricks
Our smell capsules are guaranteed for a minimum of 2 years, but can last for much longer if you close them after each use with the right cap. Keep this game far from a heat source.
Somebody that is not used to using their nose may find that olfactory recognition can be hard. However, we guarantee you that with a little training, it will become very easy!
Our first tip is to try and categorise the smell: is it sugary? salty? fruity? flowery? Woody? etc.
Our second tip is to try and remember what that smell makes you think of. Actually, our sense of smell is the one that is the most linked to our memory! A simple smell can make you think of a season (strawberries in summer), a person (grandma's lemon smell), a favourite dish (curry), a yogurt flavour, a cream fragrance, a place, etc. Making this link will automatically help to put a name on the smell you are trying to recognise.
Also, smells are like colours. For example, there are as many shades of green as there are apple smells! A green apple does not exactly smell like a red apple, that smells differently from apple sauce or apple pie! The smells presented in our games are therefore one of the many available versions of smells that you can find around you.
Recognising smells will become a true Memory game, using all your souvenirs as a reference palette.
16 smell capsules
16 tokens to put under the smell capsules
4 x 6 bee pawns
1 illustrated game board
1 dice
Box, board and pawns made of more than 80% recycled cardboard
Tray made of 70% recycled plastic