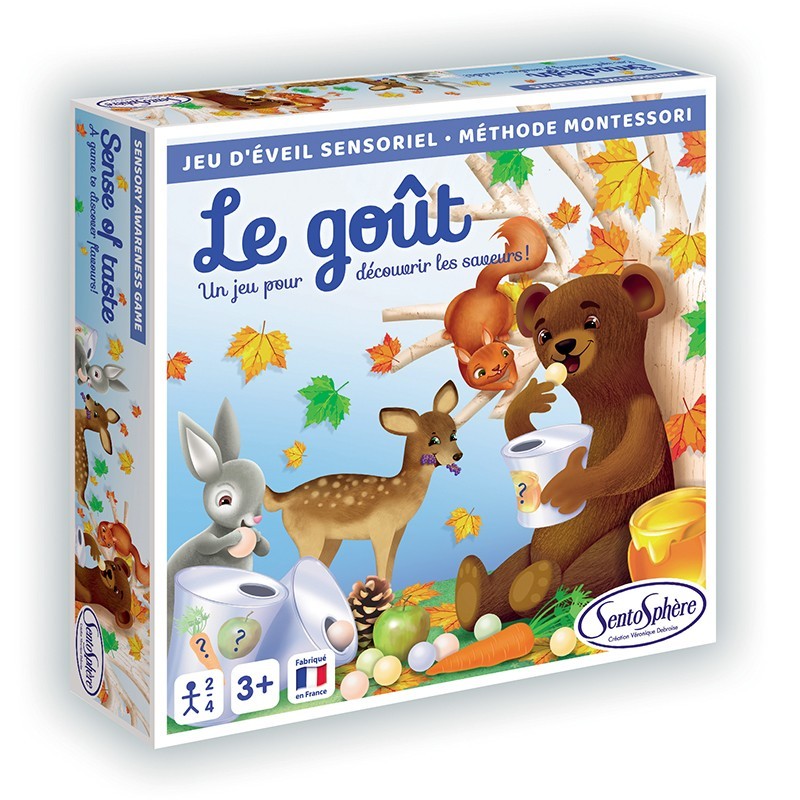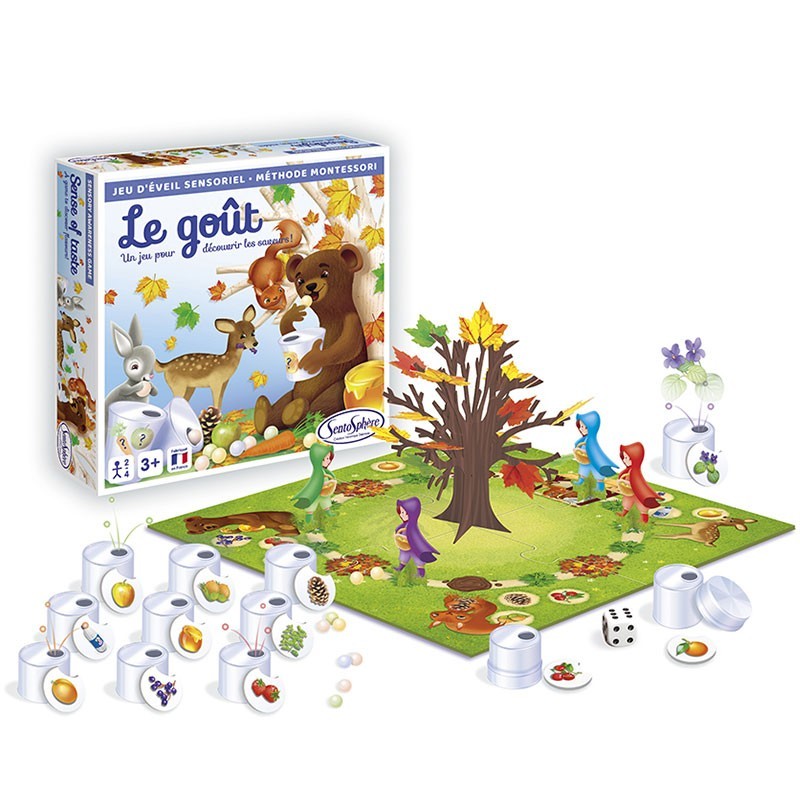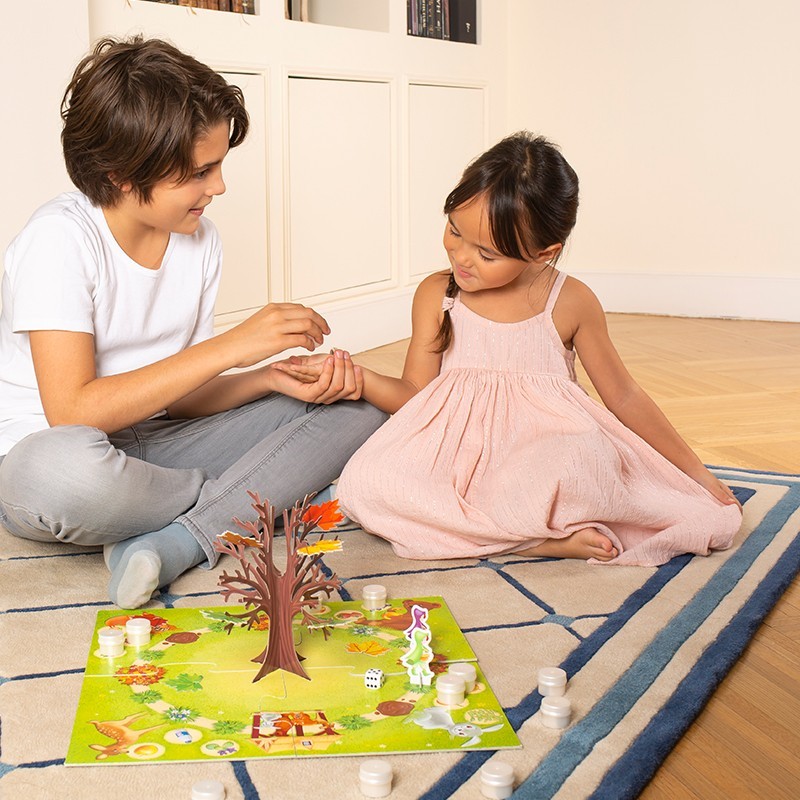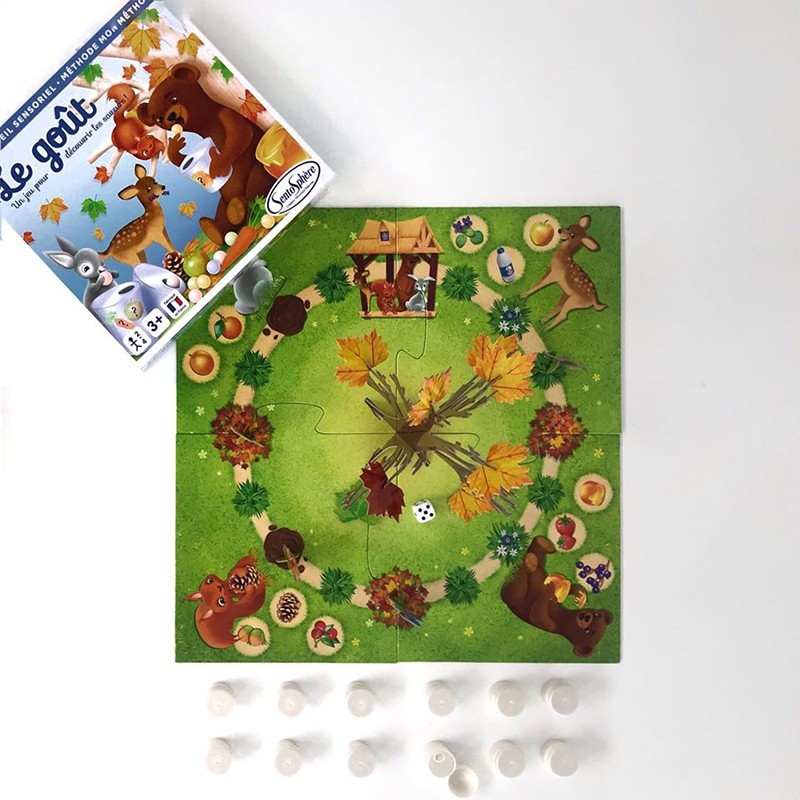  
This tasting game, based on the Montessori method, will help children awaken their sense of taste and discover new aromas all the while having fun.
3 years +
Fabriqué en France
Produit végan
Produit expédié sous 24h
SAV disponible au 01 40 60 72 65
Winter is coming! All players must unite to recognise aromas and help the forest animals stock their food before the last leaf falls from the tree! A fun, tasty and collaborative game to get ready for the winter frost!

A memory game, that does not use the small sweets, is also available in the box.

Educative Method
This game was specially designed to educated young children on their sense of taste to keep them from becoming picky eaters. It is important that children's first contacts with different foods are done in a safe and positive environment so that they link that taste to that specific atmosphere and eat it later on. We believe there are no better conditions than discovering aromas while playing!
Our sensory game range, based on the Montessori method, explores an educative method that believes children should discover their environment through their senses and different experiments from which they can learn on their own.


Ingredients
Dextrose ; édulcorant/sweeteners : sorbitol, acésulfame-K ; arômes/aromas ; anti agglomérants/Anti-caking agent : stéarate de magnésium, dioxyde de silicium [NANO] ; correcteur d'acidité/ acidity regulators : acide citrique.
Aromas may contain: Amyl cinnamal, Amylcinnamyl alcohol, Benzyl alcohol, Benzyl salicylate, Cinnamyl alcohol, Cinnamal, Citral, Coumarin, Eugenol, Geraniol, Hydroxy-citronellal, Hydroxy-methylpentylcyclohexenecarboxaldehyde, Isoeugenol, Oakmoss extracts, Treemoss extracts, Anisyl alcohol, Benzyl benzoate, Benzyl cinnamate, Citronellol, Farnesol, Hexyl cinnamaldehyde, Lilial, d-Limonene, Linalool, Methyl heptine carbonate, 3-methyl-4-(2.6,6-trimethyl-2-cyclohexen-1-yl)-3-buten-2-one.
12 small boxes, each containing 40 micro-sweets
12 tokens to place under each taste capsule
4 pawns
1 cardboard tree
8 leaves
1 dice
1 illustrated gameboard
Box, board and pawns made of more than 80% recycled cardboard
Tray made of 70% recycled plastic